This post is also available in: Português (Portuguese (Brazil))
COURSE PORTFOLIO
In addition to the Project Challenges Discipline, designed by and for IDEAR, the Lab works with a concept of a course portfolio from existing courses.
Objectives
Form entrepreneurial pathways where students have a range of non-sequential disciplines with active methodologies which they can develop in different aspects of entrepreneurship and innovation.
Requisites
To be interdisciplinary and available for students of all graduation students (as elective), to use active classroom methodologies (if the discipline does not have them, IDEAR helps the professor with reestructuring the metodology with the use of IDEAR's ludic and pedagogic resources or in partnership with PUCRS's Service Learning Program).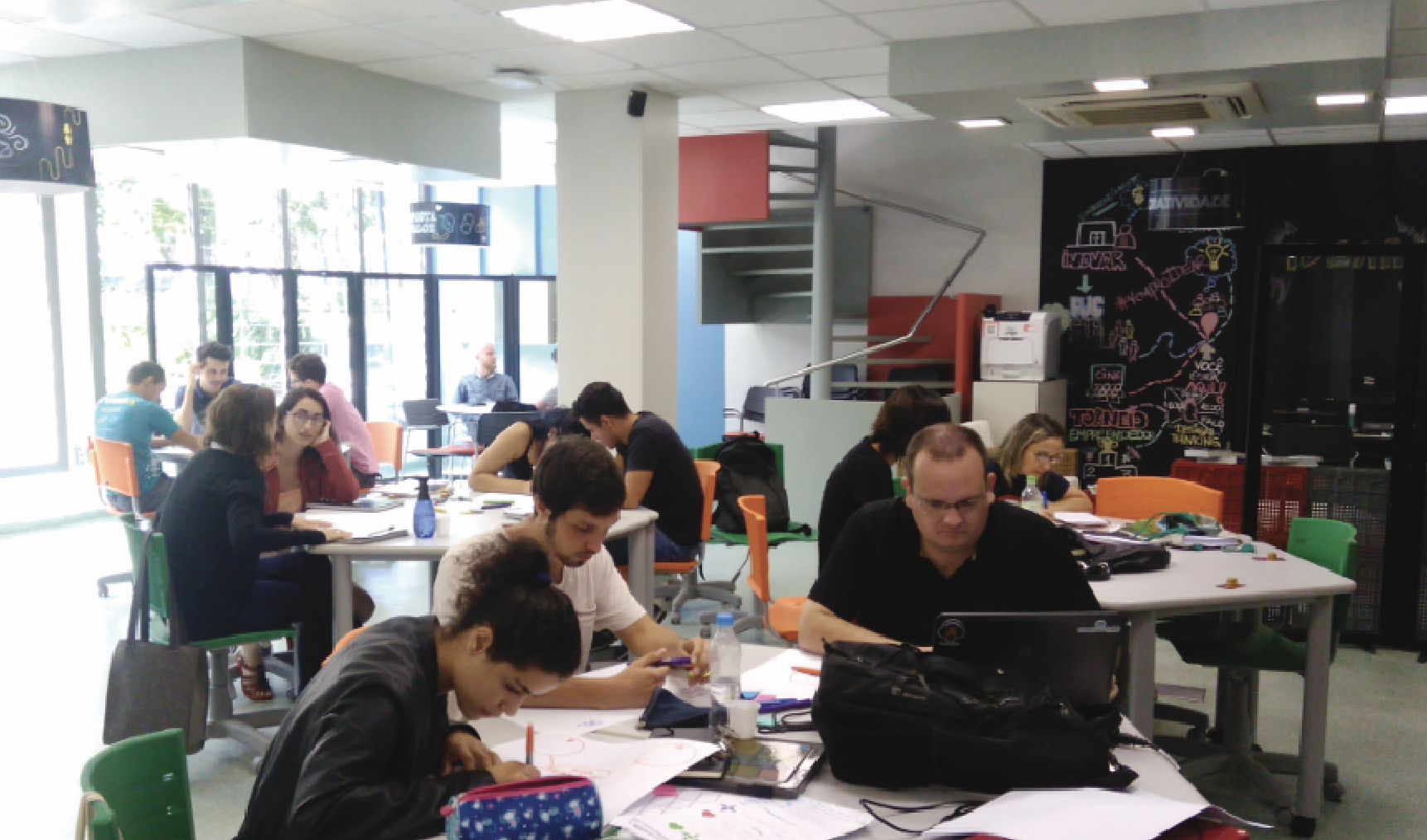 Today IDEAR has in its portfolio the following disciplines:
– Personal formation
– Behavior and Market Trends
– Digital Communication in Advertising
– Social Responsibility, Innovation and Social Entrepreneurship
– Fundamentals of Digital Entrepreneurship
– Alternative Dispute Resolution: Mediation, Arbitration and Conciliation
– Innovation and Development
– Laboratory – Interdisciplinarity
DISCIPLINE PROJECT CHALLENGES
The Project Challenges discipline, designed especially for the Laboratory, is interdisciplinary, open to all courses. It was idealized from the Impact Labs (Laboratórios de Impacto) concept, according to the Graduate School of Standford Business.
Objective
Encourage entrepreneurial attitude and innovation through thematic challenges, using new classroom dynamics, with projects guided by the Design Thinking methodology. This experiential learning format empowers students to explore a variety of approaches aimed at the social and environmental impact on the world.
How
Through contact with real situations, the student has the possibility to apply theoretical knowledge in practice, developing useful tools for his/her career and leadership in the community. It proposes innovation thematic challenges, using ludic resources for discussion and themes such as management 3.0, innovation in each area of ​​knowledge and problem-oriented thinking.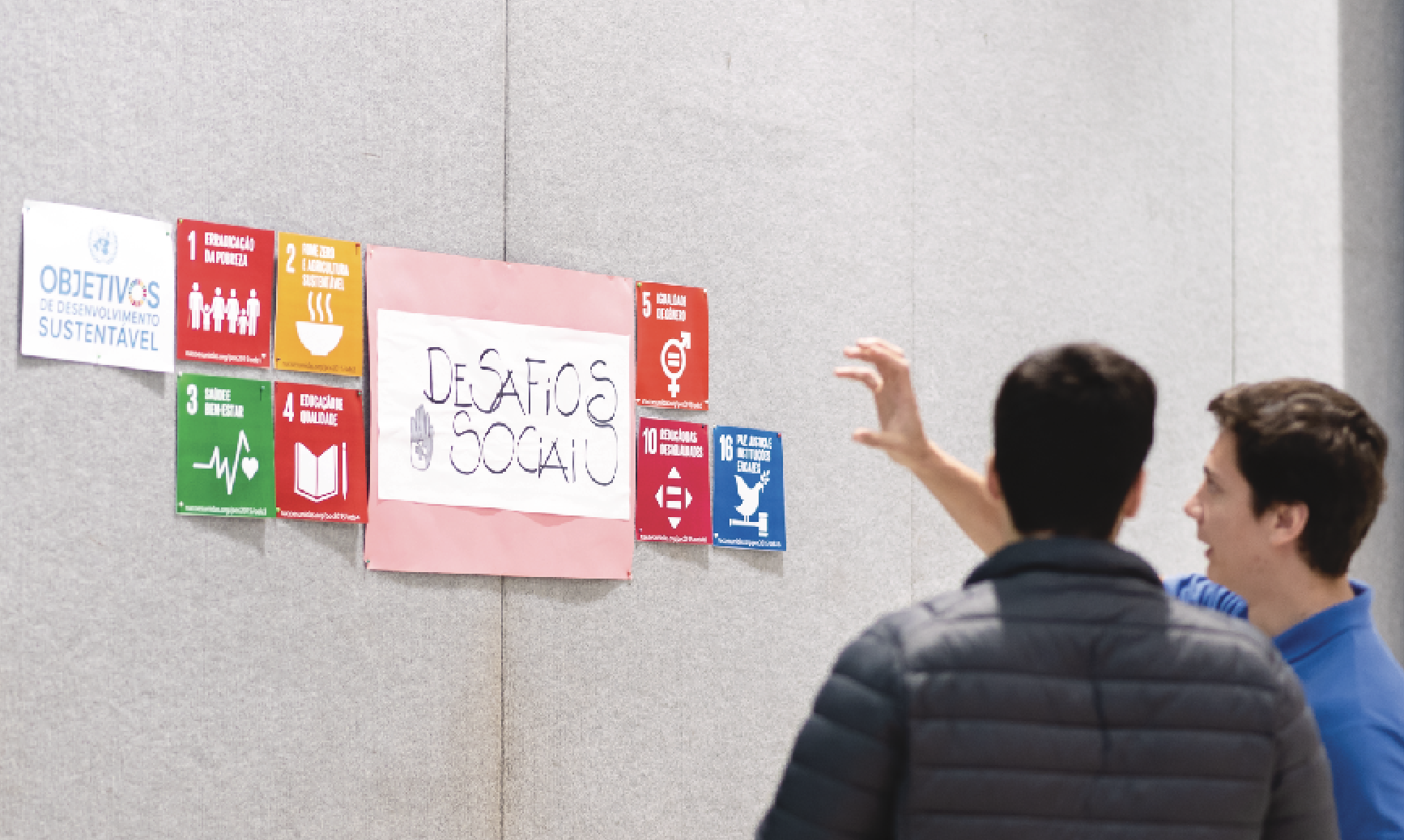 ENTREPRENEURSHIP TOURNAMENT
The Entrepreneur Tournament has been in PUCRS for 12 years and is under the management of IDEAR, which has been rethinking its format for an interdisciplinary character.
Objective
Awaken and stimulate the entrepreneurial spirit of undergraduate and postgraduate students (specialization, master's and doctorate) of Brazilian's Educational Instituitions and also of non-undergraduate people (general public).
How
Through a set of actions and steps, students in groups set up business projects that are evaluated and selected to ultimately send the best ideas to the University Institutions responsible for the next steps.
SERVICE LEARNING
Besides the Discipline Project Challenges and IDEAR's portfolio disciplines, the Lab is home to the disciplines that use the Exponential Method/Service Learning/IDEAR: a teaching methodology developed by PUCRS from Service Learning in a partnership between PUCRS Dean of Extension and IDEAR (representing PUCRS Dean of Graduation).
Objective
The essence of the method is the development of projects by undergraduate curriculum students, who seek to meet a real need for external partners.
How
The activities are carried out in the classroom with the guidance of teachers and the participation of partners, which can be private companies, public agencies or non-profit entities.
IDEATION
Ideation, PUCRS's meeting of entrepreneurship and innovation, is an event that occurs annually in partnership with PUCRS Careers. The Ideation is free and open to the public, and has workshops and panels with market professionals who exchange experiences with participants.
Next edition: May 2020.